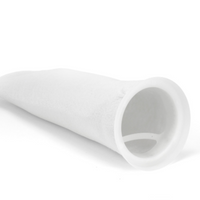 Filter socks are used to trap free floating debris which makes your tank water clear in appearance. This filter sock comes with a plastic ring which makes replacement quicker and easier and is compatible with all Fiji Cube sumps and most sumps available. ..
Add to Cart
Removes ammonia/ammonium, nitrite, odour, tannins, heavy metals & organic toxins from aquarium water.Reef Essential ® Bio-Active Carbon™ is originally designed to be used in ultra-pure water sanitisation meant for human consumption.Bio-Active Carbon™ has a unique pore size to water surface area ratio to promote the growth of beneficial bacteria..
Add to Cart
4-inch diameter filter media cup from Your Choice Aquatics, ideal for use with carbon media or for water polishing floss.Includes media bag.Dimensions: 4" x 8"Min Sock Opening: 3.5"Capacity: 1L..
Add to Cart
Showing 1 to 3 of 3 (1 Pages)