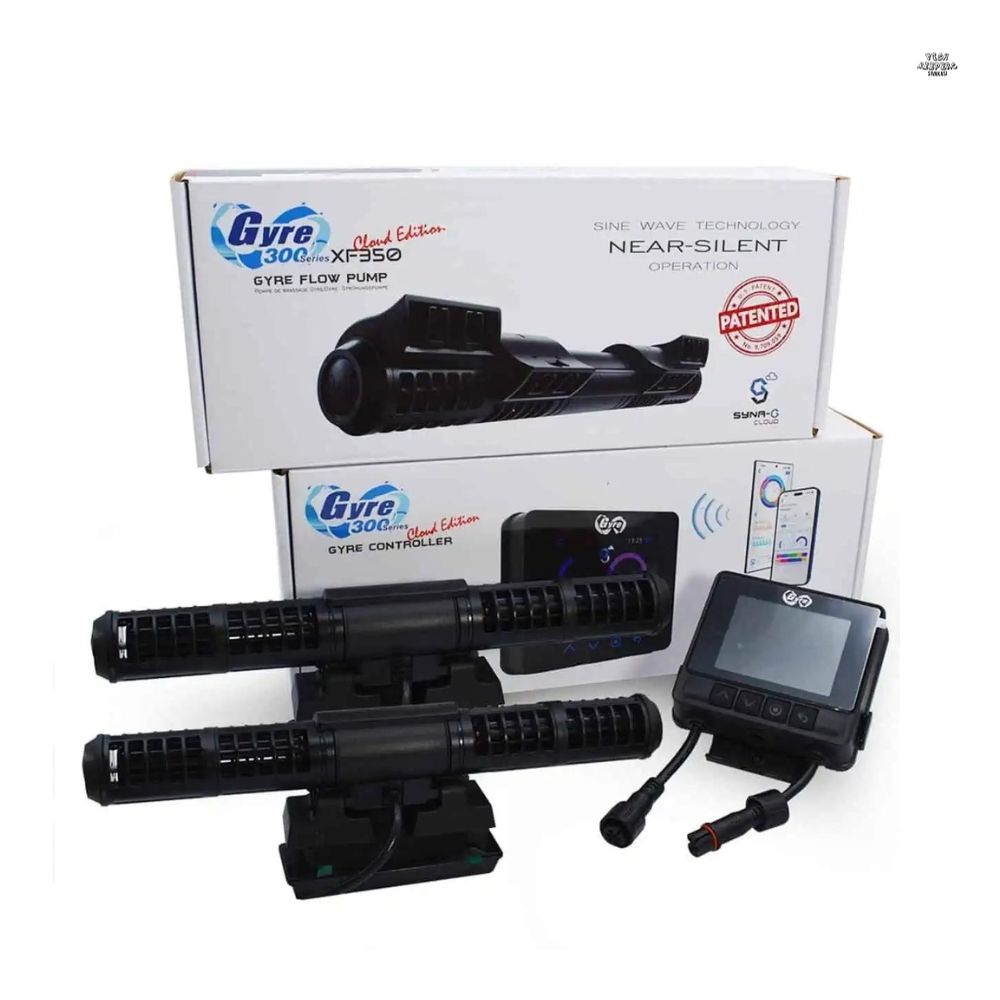 Maxspect Gyre 350 Cloud Edition – Double
0.00kg
Product Code:
TFAIMXF350CE
Overview
XF350 Cloud Edition Gyre
Product Description
XF350 Cloud Edition Gyre

Dimensions - 12.75"L x 3"W x 1.5"H
External Magnet Dimensions-5"L x 0.5"W x 1.75"H
Max-Flow - 5280 GPH
Max Glass Thickness -20mm / 3/4"
Max Power Consumption - 52 watts @ 24VDC
Controller to Pump Cable - 10ft
Controller to Power Supply - 5ft
Recommended for 80 up to 800+ gallon aquariums.




Multidirectional Flow Cages

The most noticeable improvement with the Cloud Edition gyres is the redesigned flow cages that house the cylindrical impellers and direct the water flow as it exits the pumps. Each cage is now split into two segments for a total of four articulating segments across a single pump. This allows the user to direct the flow vertically up or down and distribute the flow more efficiently. If that wasn't enough, each of the four segments accepts a brand new clip-on flow deflector giving you the ability to aim the flow horizontally, left to right. That creates a total of eight points of articulation across a single pump which means you can distribute flow in 4 different directions to target multiple areas, and ultimately reduce the number of powerheads or wavemakers you need inside your
tank.


Cloud Controller with Syna-G App

In the age of automation and control, wireless connectivity is something we have come to expect from modern aquarium equipment. The all-new Cloud Controllers do just that and incorporate the ability to connect and control your Gyre pumps using the Maxspect Syna-G control app right out of the box - no additional hardware (ICV6) required. You also gain the benefit of a redesigned app experience and user-friendly presets that eliminate the need for complicated step-by-step programming without losing any flexibility or customization capabilities.

| | |
| --- | --- |
| | |
One XF Cloud Controller can manage up to two XF Gyres and is compatible with any XF series pump. The large LCD screen is a dramatic improvement over the previous generation and makes it easy to see the status and configuration of connected pumps. You can quickly navigate the menus using the 4 push buttons and choose from over 20 preset flow patterns right in the controller. You won't have to worry about fine-tuning settings such as pulse duration or flow direction.
When connected via Wifi to the Syna-G control app, the capabilities expand and you can easily create, save, and even share custom flow schedules where the pumps move through any configuration of flow patterns throughout a 24-hour period. You can choose from one of six preset flow schedules including SPS, LPS, and Fish Only, or start from scratch to create your own custom schedule. You can adjust the feed hold times, get notified when it's time to maintain your pumps and access your pumps from anywhere in the world with an internet connection.